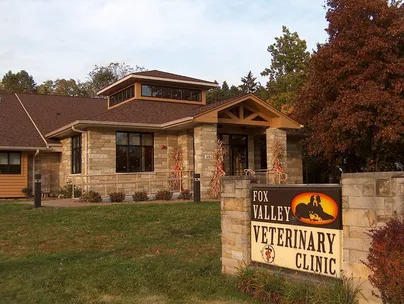 Fox Valley Veterinary Clinic has been servicing pets and their owners in the North Aurora are for nearly 60 years! In 2008, our facilities were completely re-designed and expanded. Our expansion allows us to house the advanced diagnostic and treatment options that enable our team to provide your pets with the gold standard of care.
In addition to more space for diagnostic and treatment equipment, we also have instituted separate dog and cat/exotics waiting areas, examination rooms, and hospitalization areas to provide your pets the utmost comfort and safety during their visits with us.
We take pride in the cleanliness of our clinic and strive to always have a warm, welcoming environment for your family. We invite you to call us to schedule a tour of our facilities.
---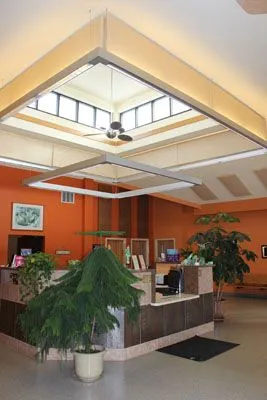 Waiting Area
Our indoor waiting area is open and inviting providing lots of comfortable bench seating, a wide array of current magazines, and numerous plants and foliage. It is divided into an area for our canine patients and an area for our feline and exotics patients to allow all to wait briefly with as little stress as possible. We also have an airy outdoor waiting area which provides a nice shady bench seat for most of the year. In the event that your pet would be most comfortable waiting in a private room with the least amount of noise and distraction, please let us know, we are happy to accommodate.
---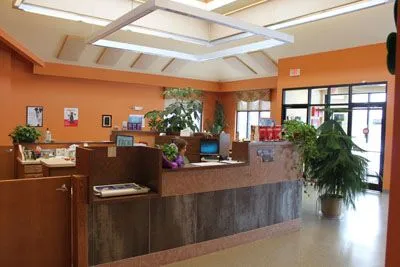 Reception Desk

The reception desk is positioned in the center of the waiting area allowing our receptionists to offer warm greetings as you enter the office. This is the area where our team answers the phones, schedules appointments, checks-in and checks-out clients, and many more important activities. Our receptions desk includes one check-in window and two check-out stations to ensure that we can serve you in a timely manner.
---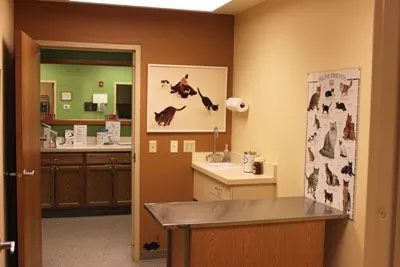 Examination Rooms
We have 6 spacious exam rooms painted in warm colors to comfort you and your pet. Each of our exam rooms has a sturdy exam table along with various instruments and supplies to complete a thorough check of your pet's health.
---

Treatment Room
The treatment area is the most active part of our hospital and is central to all other work areas in our clinic. It includes 4 treatment tables, as well as 2 treatment bathtubs. This is where many procedures are performed including pedicures, blood draws, wound repairs, preparation for surgeries, and much more. Much of our specialized cleaning and sterilization equipment are utilized here also.
---
Laboratory
The laboratory area serves various important purposes for our clinic. We do a large portion of our lab testing in-house, allowing us to give you results quickly. Along with routine fecal and urine sample analyses, a good portion of our blood work is performed in-house, especially in emergency cases where patient samples are processed and evaluated within minutes. We often use our in-house equipment for pre-surgical blood screening, heartworm testing, and follow-up blood work as well. For less urgent or specialized cases, blood samples are sent out to an excellent reference laboratory which returns results to us in a very prompt manner.
---
For your convenience, we stock most medications that are commonly used in veterinary medicine. These medications range from preventative medications to those needed for treatment of medical cases. By utilizing our in-house veterinary pharmacy, preventative medications such as heartworm preventatives and flea/tick control are covered under a manufacturer guarantee.
---
Digital Imaging Suite
The digital imaging suite includes our X-ray and ultrasound equipment. Our digital x-ray images can be quickly viewed by our doctors and clients. Our ultrasound equipment allows doctors to provide additional diagnostic tools for patients. We also have the technology to send the images to a Board-Certified radiologist for review in more complex cases.
---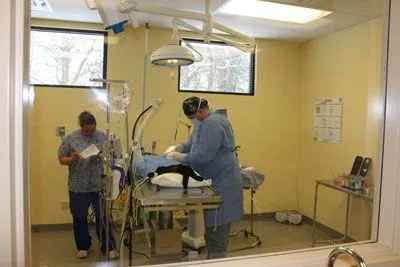 Surgical Suite
The surgical suite is used routinely Tuesday, Wednesday, and Thursday of each week. This room includes many state-of-the-art technologies, such as patient monitoring equipment, patient warming devices, and laser technology. We began using laser technology in 2000 in place of a traditional scalpel to reduce bleeding during surgery as well as inflammation post-surgery. Internal windows allow our staff to see into the surgical suite from the treatment area and from the dental suite in order to best assist the surgeon.
---
Dental Suite

The dental suite is utilized for all dental procedures, from routine dental cleaning and polishing to necessary oral surgeries and extractions. Dental x-rays are also utilized for evaluating the health of teeth below the gum line. The dental suite is also equipped with patient monitoring equipment, patient warming devices, and many specialized dental instruments. Dental care is an extremely important part of keeping your pet healthy and adding years to their life.
---
Dog and Cat Ward

The dog and cat ward are the areas where pets are housed when here for medical or surgical hospitalization. Our cages are lined with fleece bedding during your pet's stay to ensure their comfort. The dog and cat wards are separated by a sound barrier wall to keep the stress level lower for our feline patients. We also have a row of 4ft x 8ft dog runs for our larger canine patients.
---
ICU
The ICU is located at the west end of our treatment area. It serves as a central location for the critically ill or the recovering surgery patient. Its glass wall allows our doctors and staff to keep watch over these pets at all times. The intensive care unit includes IV pumps, patient warming devices, monitoring equipment, and oxygen delivery capabilities.
---
In the event that a patient with a potentially contagious illness is hospitalized, we utilize our isolation unit. This room includes a large dog run and also a spacious kennel for smaller patients. The room features a large viewing window, a dedicated sink and cleaning supplies and a private ventilation system to best prevent spread of any illness.
---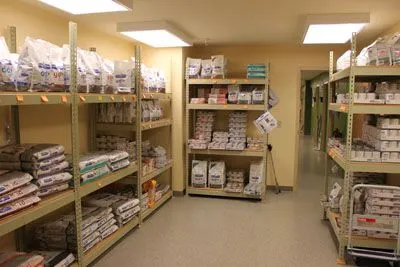 Food Storage
The food storage area is where our multitude of Prescription Diets are kept. Prescription Diets have been created for patents whose medical conditions would benefit from nutrition other than those available commercially. We stock Hill's Prescription Diets and are happy to order Iams and Royal Canin diets for our patients.
---
We hope you have enjoyed your virtual tour of our facility. If you would like a physical tour,
please give us a call at (630) 896-6664.